36 Inchi Wooden Ourdoor Chess Set
This ideally sized set has all the style and elegance expected of a quality teak chess set. This set is comfortable and easy to play while providing the optimum visual impact. It creates an amazing feature in outdoor yards and gardens. Set includes: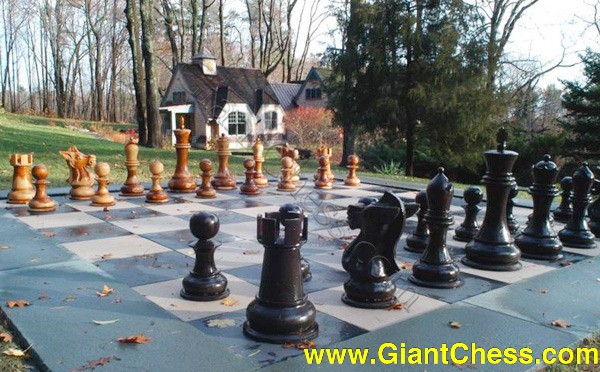 32 regulation pieces.

Dimensions of individual pieces:- (Width,Height and Weight)

King - 16"(40cm) x 36"(90cm), 15.0kgs
Queen - 15"(37cm) x 29"(72cm), 10.5kgs
Rook - 13"(32cm) x 20"(50cm), 10.1kgs
Bishop - 13"(32cm) x 27"(67cm), 7.5kgs
Knight - 13"(32cm) x 24"(60cm), 9.8kgs
Pawn - 10"(25cm) x 18"(45cm), 3.7kgs

Total set Weight 220kgs.
- Width is the diameter of the base.
- Height is the distance from the base to the highest part of the piece.
Our sets are handmade so measurements can vary by ±10%.
Please note that teak chess boards are not available in this size.
We recommend using coloured garden tiles and paving flags which are readily available from garden nurseries and hardware outlets. The optimum size = 18" (45cm) squares giving a total board size of 12' (3.6m) x 12' (3.6m).
More visit :
http://www.giantchess.com